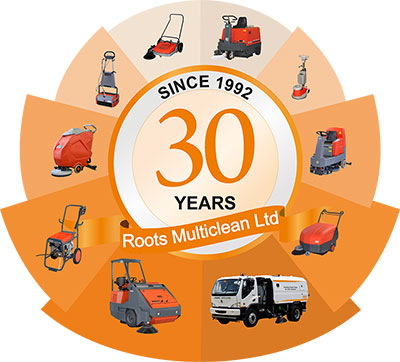 Roots Multiclean Ltd, India's first Mechanised Cleaning Equipment Manufacturer began operations in 1992. With the vision of a cleaner nation, when we started our operations, little did the Nation know that Roots Multiclean Ltd, was going to be the country's largest cleaning equipment manufacturer.
Our journey started with a simple push Sweeper, Flipper and today our highly sophisticated manufacturing facility produces a range of machines including Scrubbers, High-pressure washers, Industrial vacuum cleaners, Carpet cleaner machines, Steam cleaners, City sweepers and Runway sweepers.
We are proud to enjoy unparalleled trust and confidence of thousands of customers across segments like Manufacturing, Railways, Defence, Pharma, Automobile industries and many more. Currently, Roots Multiclean Ltd offers its solutions in 36 countries.
Giving the best cleaning experience and ensuring Hygiene at our customer's premises begins right at our factory. Our state of the art manufacturing facility host array of advanced production machineries.
Our solutions are designed ergonomically with superior specifications to meet challenging working conditions and to last longer.
Quality is our way of life; Right from raw materials to fabricated spares all components are thoroughly tested and approved for the set quality parameters before being sent to the assembly line. We have custom designed assembly, sub-assembly lines. Every product from Roots Multiclean's stable undergoes stringent quality tests at all stages.
Therefore our machines demand less service and spares over their lifetime, thereby ensuring the optimum cost of ownership.
One of the biggest strength of Roots Multiclean Ltd is the team, our all India network of 75+ Business Development Executives, over 150 Service Engineers cover all states and union territories of India and continuously strive to exceed customer expectations in ensuring excellent sales & service support. Our Service team is trained for "Fix it Fine – The First Time" and ensuring maintenance costs at the lowest.
In our commitment to imagine and build a futuristic solution, we have introduced, Anti Bacterial Tanks – in our complete range of scrubbers. Roots Multiclean Ltd, takes pride in receiving the Excellence Award for this achievement. Further Roots Multiclean Ltd is the proud recipient of Indian Government's EEPC award for 6 times in a row since 2011.
In over 30 years of our glorious journey, we are driven by the commitment to add value through innovation, quality, service and thereby building sustainable long-term business partnerships. After all, this has won us the trust and confidence of over 35,000 active customers across India & Global markets.
Roots Multiclean Ltd touches lives of people across the world & fulfill the dream of billions of people for a cleaner environment.
SWEEPING MACHINE
Sweeping is the function performed to clear a floor, road or surface of dirt, litter or the like by the means of a broom or brush. Soil and debris that are allowed to accumulate on the surface can become hazardous. Sweeping is an effective means of removing the soil and debris and hence reducing the risk.
Roots Multiclean Ltd offers various kinds of effective sweeping machines for variety of industrial, commercial and domestic cleaning requirements from simple walk behind push sweeper having the sweeping with of 650mm, and area coverage of 2600m2/hr to high performance Truck Mounted City Sweepers and & Airport Runway Sweepers having the sweeping with of 3000mm and the area coverage of 30000m2/hour.
Our comprehensive range of Sweepers caters to numerous industrial cleaning applications.